ROSS® Safety Applications
Air Distribution
Counterbalance
Tilt Tables
Die Clamping
Transfer Feeds
Die Cushion
Clutch/Brake
De-Stackers
---
Press Metal Forming Industry Solutions - Poppet Valves
ROSS poppet valves pop open and closed almost instantly. Surface areas of the piston poppet, the exhaust poppet and the inlet poppet are carefully calculated to produce strong shifting and sealing forces in each direction. This results in a design, which ensures high speed, repeatability and high shifting forces over the life of the valve.

ROSS poppet valves have positive sealing with no sliding action to prevent damage and wear. They are also self-cleaning and dirt tolerant thanks to the smallest flow-through area across the poppet's seal and seat which produces a high-enough velocity to blow out all dirt and foreign matter. Plus, the valve is self-compensating for wear by automatically changing stroke length due to height changes in the valve seal from burnishing. These valves are designed for repeatability, high-temperature service, high speed, and high-shift consistency over the life of the valve.
Browse Our Catalog
---
Featured Product
Air Distribution Manifolds
The ROSS air distribution manifolds provide individual control of machinery with multiple pneumatic circuits. Mechanical presses may have clutch/brake, counterbalance, mechanical device, automation device or die cushion circuits. Air distribution manifolds allow centralized locations, independent pressure control and independent lockout capability for each pneumatic circuit.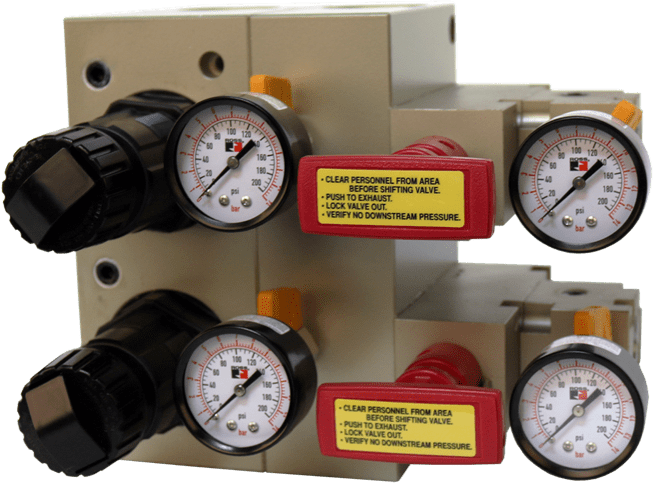 Individual manifold blocks of any size or configuration can be connected together to make larger manifold assemblies to meet virtually any machine application. Each station circuit can be customer specified to include pressure regulation, check valve or lockout valve functions.
ROSS/FLEX® - Tailoring Standard Products to your Specific Applications
ROSS/FLEX® is the answer when you need the function of a standard product in a specific package and need it quickly. ROSS can repackage the existing, proven internal parts of standard products to your specifications, eliminating the need for life cycle testing. ROSS's engineering design team can provide a unique solution that is designed to your requirements, delivered in days rather than weeks or months. ROSS/FLEX eliminates costs and dramatically reduces the time required to develop a solution.
Get Started
ROSS Controls® - Safety Specialists
Clutch/Brake Applications
In the mid-1950's ROSS was the first to introduce double valve technology to the press industry, improving standards and operator safety on mechanical power presses. Over the years, ROSS has shown continued innovation in the field of control reliable double valve technology for clutches and brakes.
Learn More
---
Non-Clutch/Brake Applications
ROSS employs a team of Global Industry Specialists with vast experience in fluid power applications with special emphasis on Safety. The ROSS Safety Team participates on industry standards committees that set policy and best practices for machine guarding in order to improve worker Safety, reduce the likelihood of equipment damage, and increase productivity.
Learn More
ROSS Controls® - White Papers
Making safety first is everyone's goal, especially in the Press Metal Forming industry, and you can take advantage of additional free resources to make that happen. ROSS is proud to provide downloadable white papers for you to use to increase the safety in your business and stay up to date on industry standards. You can find all the latest white papers by clicking the link below.
View White Papers
Contact Our Team
ROSS employs a powerful team of experts with vast experience in fluid power able to help you find a solution for your safety goals. Whether it be a custom solution, a current product, application, or safety course, ROSS is here to provide just what you need with your business specifications in mind.