Packaging Industry Application Solutions - Poppet Valves
ROSS poppet valves pop open and closed almost instantly. Surface areas of the piston poppet, the exhaust poppet and the inlet poppet are carefully calculated to produce strong shifting and sealing forces in each direction. This results in a design, which ensures high speed, repeatability and high shifting forces.

ROSS poppet valves have positive sealing with no sliding action to prevent damage and wear. They are also self-cleaning and dirt tolerant thanks to the smallest flow-through area across the poppet's seal and seat which produces a high-enough velocity to blow out all dirt and foreign matter. Plus, the valve is self-compensating for wear by automatically changing stroke length due to height changes in the valve seal from burnishing. These valves are designed for repeatability, high-temperature service, high speed, and high-shift consistency over the life of the valve.
Browse Our Catalog
ROSS® Packaging Applications
Vacuum Packaging

Vacuum packaging is a process where a product is placed in a bag or sandwiched in-between two sheets of plastic, a vacuum is applied to remove atmospheric air and then the product is sealed. In an effort to increase machine speed, valve port sizes generally range from 1" to 2-1/2". In this application, most OEMs will actuate a single 3-way to pull a vacuum on the product and then de-actuate to vent the vacuum. Although this may be a practical method for systems using valves ported less than 1", it can cause problems in systems using larger valves. When a standard 3-way poppet valve is in the process of shifting, there is an open center condition, which allows the vacuum pump to be open to the atmosphere. Not only does this condition increase energy cost, it also decreases cycle time. Using a two station 2-way CP manifold eliminates this problem.

Thermoforming

Thermoforming is a process where a thin sheet of plastic enters the machine mold and forms thin-walled products by vacuum being pulled on the mold. These machines produce high volume, low margin, products and machine speed is the difference between profit and loss.

Blow Molding

There are multiple types of blow molding used in the production of plastic bottles including extrusion blow molding, injection blow molding, stretch blow molding, and reheat and blow molding.

Question? Contact Us
Featured Product
Dale Valves
The Dale Valve Series is another example of ROSS poppet valves. These valves are compact and offer high flow up to a Cv of 100 to reduce cycle time. They are light-weight and with manifold configurations help eliminate piping allowing the valves to be mounted closer to the process. The bi-directional flow capabilities allow vacuum, pressure or gas on any port at any time. Similar to other ROSS poppet valves, they provide high contamination tolerance, positive sealing, and are self-compensating for wear.
Question? Contact Us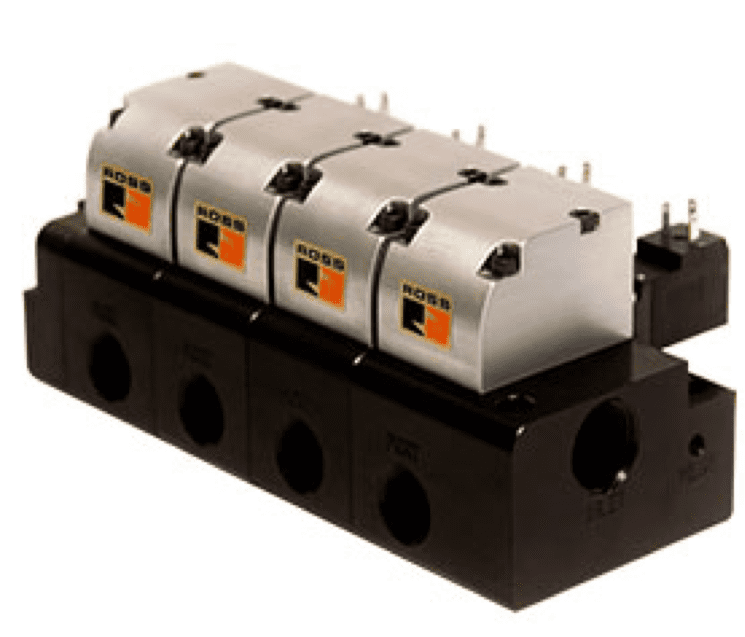 ROSS/FLEX® – Tailoring Standard Products to Your Specific Applications
ROSS/FLEX®
Using the customer's expertise and intrinsic knowledge of the smelter application, together with ROSS engineering's capability to quickly design/manufacture a solution using ROSS' proven Poppet internals, opens the door to painless continuous improvement (cost reduction, improved performance, increased uptime, improved safety, etc.).
Get Started
---
ROSS® Systems
ROSS is a trusted source for systems and panels for existing or new designs. ROSS will build and test systems and panels to your exact specifications using superior materials and proven expertise and can offer on-site testing and installation assistance.
Get Started
ROSS Controls® - Safety Specialists
ROSS employs a team of Global Industry Specialists with vast experience in fluid power applications with special emphasis on Safety. The ROSS Safety Team participates on industry standards committees that set policy and best practices for machine guarding in order to improve worker Safety, reduce the likelihood of equipment damage, and increase productivity.
Learn More
ROSS Controls® - White Papers
Making safety first is everyone's goal, and you can take advantage of additional free resources to make that happen. ROSS is proud to provide downloadable white papers for you to use to increase the safety in your Assembly & Test applications and stay up to date on industry standards. You can find all the latest white papers by clicking the link below.
View White Papers
Contact Our Team
ROSS employs a powerful team of experts with vast experience in fluid power able to help you find a solution for your safety goals. Whether it be a custom solution, a current product, application, or safety course, ROSS is here to provide just what you need with your business specifications in mind.